I no longer buy from EAM as they do repackage their pigments.
Hey Makeup Monsters!
As I was browsing
Etsy
one day, I came across the store for Christine at
Earth Angel Minerals
.
I found a few gorgeous looking eyeshadow I just had to have. The main reason her store caught my eye was because:
Per the
Etsy
store:
"EARTH ANGEL MINERALS is the Pure & Na
tural

,
Organic Mineral Makeup!
I created my line of healthy mineral makeup to offer women an affordable, more natural alternative to the national brands of mineral makeup. Most women don't realize it but with the recent hype over mineral makeup, the major brands are now in the game…but do they really care about what is inside their jars??
I don't think so…LOOK AT THE INGREDIENTS ON THEIR LABELS!!!
Th
ey

list all sorts of bad chemicals with a tiny bit of minerals inside! Please be aware of what you are placing on your skin! Anything you put on your skin will be absorbed into your body & into
the blood stream!
You won't have to worry with EARTH ANGEL MINERALS! Our cosmetics are

CELIAC

& VEGAN friendly!
We don't use harmful & irritating ingredients!
NO Bismuth

Oxychloride
NO

NANO

-PARTICLES!
NO

Parabens
NO Talc or Synthetic Dyes
NO

Glycols
NO Cancer Causing Chemicals
NO Carmine
See what the BUZZ is all about! Become an Earth Angel today! Your skin will love you for it!"
I asked Christine if she'd be
ok
with me reviewing her product on my blog. She kindly agreed. Christine did not send me any of the products free of charge with the exception of a few samples she threw in for me. I purchased the
eyeshadow
with my own money. With that being said, this is my clear and honest opinion..SO there!
Ok
, let's move on...QUICK!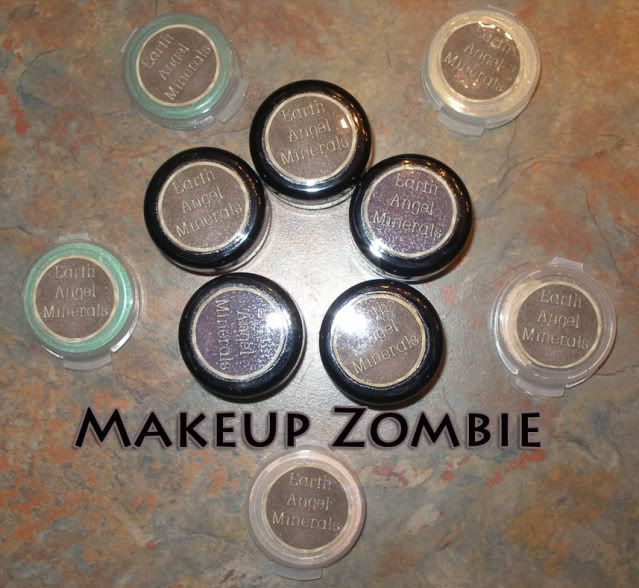 I purchased 5 eyeshadow from
Christine
- each shadow came in a 5g sifter jar, with .5g Net wt.
"This size will last many applications without breaking the bank! "
Per the Earth Angel store.
Hot Tamale
Top O' the
Mornin
'
Pot O' Gold
Fawn
Lemon Sugar
Samples received: 5 small
clam shells
of:
Butter Cream
Shamrock Eye Color
Emerald Isle
Light Tinted Angel Veil
Refresh
Brightener
(I'm only reviewing the
eyeshadow
at this time.)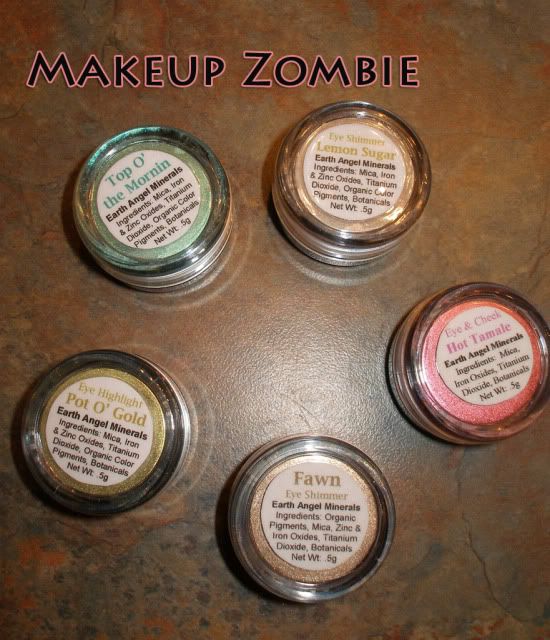 First Impressions:
I was pleasantly surprised that each jar was tamper

resistant

and sealed. That's really cool! That insured that I was the first person to touch the shadow. Christine took great care in the labels on each jar as well. The name,

ingredients

, and weight are all on the

bottom

of the jar. Great detail for the win!
Christine wrote notes on the invoice- pointing out a color I would love. I thought that gave it a really friendly and down to earth touch.

The

generosity

of the samples was cool too. I ordered two shadows from her new 2010 "Luck of the Irish" Collection in full size and she sent me samples of the rest of the collection. "Shamrock" and "Emerald Isle." I LOVE the greens.
Customer Service was fast and friendly. My package got here in

exactly

5 days via USPS First Class Mail. No complaints there.
The products were packaged nice and secure.
Shadows:
So far I am LOVING Hot Tamale. It's a smoking hot coppery red color with reflects of gold. It is hard to explain, but beautiful. I'm excited to use it as an eyeliner or for a dramatic look. It's pigmentation is just enough to not be overly "in your face" red and can be easily toned down. This is my top favorite so far.
Next comes Top O' The
Mornin
'. A beautiful mint green color with reflects of green and blue. I have never actually seen a color like this. It reminds me of green cotton candy...that's the only way I can describe it. I can't wait to see what I can do with this baby.
Fawn is a pretty
brownzy
cream brown with tons of sparkle. Just fun enough to kick a daytime neutral look up a notch. And if you know me, you know..I love sparkle!
Pot O' Gold is a neat subtle green color with tons of gold reflects. Hence the name! Such a fun color!
And Lemon Sugar.. I don't know what I was expecting, but from the pictures online, I was expecting a little more out of this color. It's a shimmery light pink color with sparkle. Great for a highlight. I think I was hoping it would have more
iridescence
to it. But still a nice shade.
Samples:
Shamrock is a medium shimmery green with blue reflects. VERY pretty. And Emerald Isle is just a bit darker than Shamrock with the same blue reflects. I really do like this collection. Though I'm only going to review the eyeshadow now, I did receive a sample of Butter Cream, which I'll talk a little about. In the package there was a little brochure talking about Butter Cream.
"Butter Cream- Multi Tasking Mineral Eyelid Primer and Skin

Balancer
Butter Cream is a great multi taking mineral! Helps to neutralize your skin tone! Brightens the eye area! Tones down too much "OOPS" blush!"
I've only
swatched
the colors on my hand minus a primer. The colors do fade quickly, but with a good primer, I'm sure they are meant to last. My first test run will be tomorrow and I will update everyone on how it goes and what the staying power is like.
So far I give these shadows 4 out of 5 Zombies.
FYI- The lighting just does not do these shadow justice, but I tried!