I'm doing a collective Elf eyeshadow review as I have a couple of nays and one very big
YAY
! I admit, while I do love the creaminess of high end eyeshadow, I'm a sucker for a sale. And when I see eyeshadow on sale, 9 times out of 10 I'm going to cave.. Now imagine eyeshadow on sale that is ALWAYS on sale. Anyone familiar with Elf (
eyelipsface
.com) knows their products are just a buck. Products in their professional and studio line go for $3.00.. So, when I saw the two eyeshadow duos in a holiday set TOGETHER for $3.00 I was sold.
Unfortunately
in this case, you get what you pay for. The duos are soft purple and brown and white and silver. Out of the 4, I do like the silver eyeshadow. It's very glittery, but it does NOT last. I even had a primer and base on and it was gone within 2 hours of wear. Though the purple and brown duo look
pigmented
, they are not. And again, there really is no staying power. If you're new to makeup, the Elf duos might be just the ticket and I'm pretty sure had I piled on the shadow they would have stuck around... But really in my opinion they are just
meh
...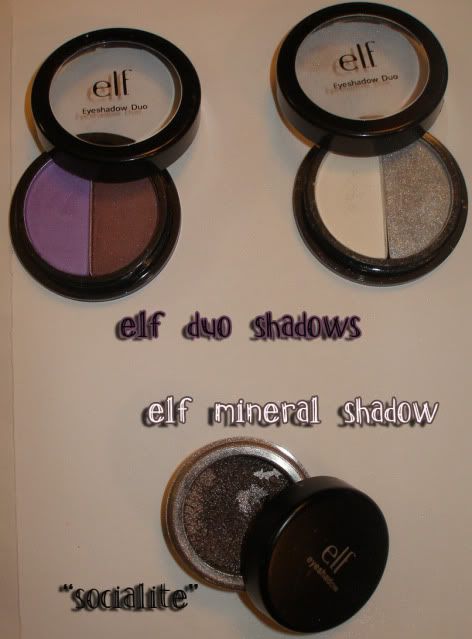 On the other hand, the mineral shadow from Elf called "Socialite" is another story totally! This again was $3.00 and one of the very first shadows I purchased from Elf. I am actually pretty amazed. I'm on a total mineral kick right now and I dug this one out of my shadow drawer the other day to take a second look at it. It's this super cool taupe color with hints of blue and silver reflects. I'll even go out on a limb and compare it to
MAC's
Satin Taupe. The color lasts forever, even without a primer, and a little goes a long way. The thing I love most about mineral shadows and pigments are that they last forever. I would recommend the Elf Mineral line, judging from this eyeshadow. I think the quality is great and it's very
blendable
! Way to go Elf!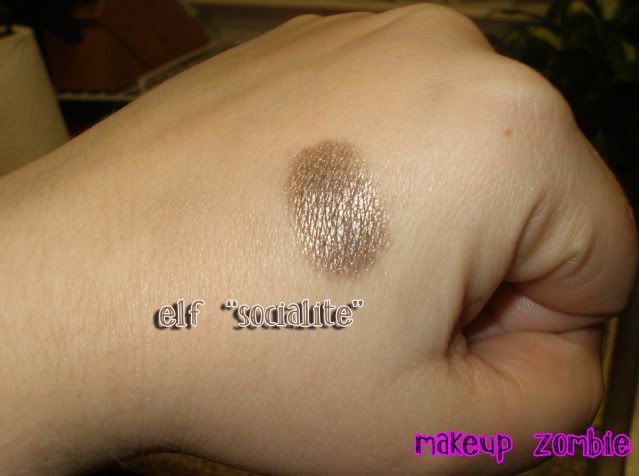 If you're interested in Elf products go to:
http://www.eyeslipsface.com/makeup
Wendi
-The Makeup Zombie