Wooooot! In the mail on Saturday was my wonderful package from
Concrete Minerals
. I was overly excited about this order, because I had by happenstance run across this store on Etsy. (I'm officially an Etsy junkie!) The colors of the shadow..the names...the super friendly customer service (Emily rocks my socks) and kick ass Etsy store, just had me in giddy school girl mode. Luckily the order took only 2 days to get to me!
As I ripped open the neatly bubble envelope packaged "stuffs" like a little girl on Christmas morning, the first thing I noticed was that the shadows were wrapped in bright pink tissue paper. SCORE! I also received a personalized note card from Emily.
Before I start on the "eyeshadow" let me just say: I was not paid for my review of this product. I was however sent two free eyeshadow to review. All of the following information is from my very own twisted mind and is my very own opinion. Woot!
Let's begin-
Also inside the package was my invoice, which I thought was a nice touch. I ordered Smut and Temptress at $5.99 each and to my surprise she included Mad Hatter (which is in the Alice in Wonderland Collection), and Strobelight. I was very excited about this, until I opened them, then I was
ecstatic!
Smut
: This is going to be a cult classic in no time. I think it's already on it's way. In the jar Smut looks like a deep brownish/gray color. But once swatched it turns into a burnt purple color with gold and pink reflect. It's the most amazing color and hard to explain in words. Definitely one of the favorites in my current mineral collection.
Temptress
: A gorgeous Teal color with silver, gold, and pink shimmer (almost glitter.) Absolutely beautiful.
Strobelight
: Looks dark grey/blue in the jar but once on it's a perfect silver blue with silver sparkle. I really think Temptress and Strobelight would go well together.
Mad Hatter
: This color took me by surprise. It's dark and intense, but FULL of sparkle. Depends on which light you're in as to what the color is going to look like. To me it's a deep, burnt plum with silver and blue glitter. A great crease and.or liner color.
Each shadow came in a 10 gr. jar with a sifter- but the product is packed in! The bottom of the jars have the logo for
Concrete Minerals
as well as the name of each shadow and the weight of the product. 1.5 grams.
And as per the Etsy store:
"Concrete Minerals products contain no nonsense, commonly referred to as:
:: Parabens
:: Fragrances
:: Dyes
:: Nano-particles
:: Bismuth Oxychloride, Talc or other cheap fillers
We ship all of our mineral eyeshadows in full 10-GRAM jars (never in 5-gram or even 3-gram jars) to ensure your beautiful product lasts and we NEVER-ever-ever repackage straight mica!"
I give Concrete Minerals two thumbs way up and 5 out of 5 Zombies! I am drooling intensely over "Hearts" and can't wait to purchase it. I think the only con if there would be one- the colors are very bold and pigmented and a little messy. Use caution when opening the jars and applying the color.
The pictures below don't do the colors justice, but I tried to represent them as best as I could. I swatched each color sans any type of primer or base. Look at that pigmentation!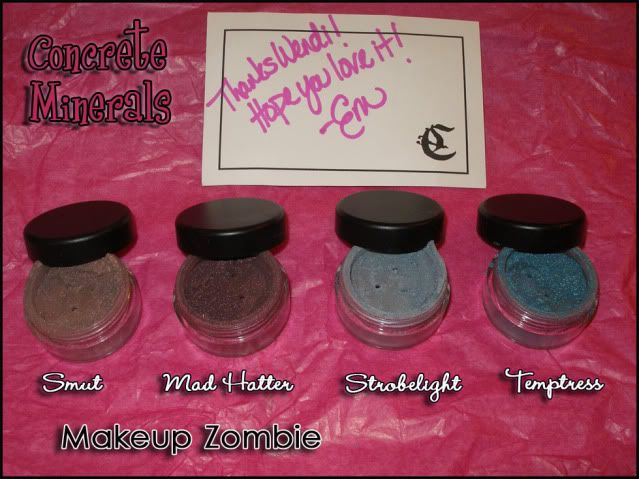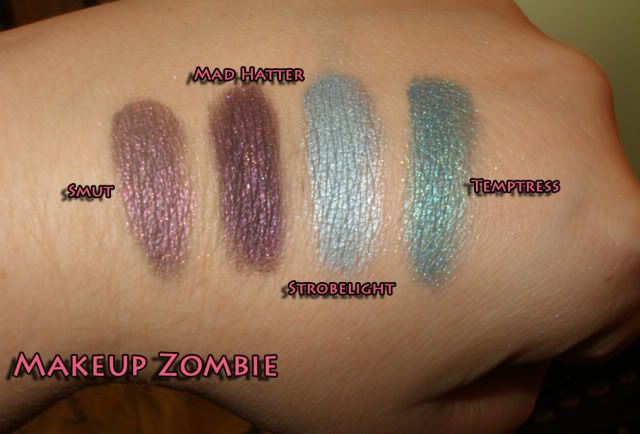 So stop by the Concrete Minerals store on Etsy and tell Emily that the Makeup Zombie sent you! It's well worth it!