You will rarely see a haul post on my blog. I have a few reasons why not.
1. I live on a tight budget. As of this month I am on a $15.00 a month spending limit. So I can't afford to do hauls very often.
2. I don't want to brag about what I have- I just want to get the word out there when I love a product.
3. It takes too damn long to post pictures and comments regarding the haul. LOL
With that being said- I just received a package today from
cherryculture.com.
Last week they were having a 25% off entire site sale. You know..the ones you can't pass up no matter how hard you try? (Even with your husband in your ear telling you "Not to buy anything!" hahaha) There are some things I've been wanting to try from NYX and I thought that this was the time to get them, seeing as how I'll be on a minimal spending allowance each month. So, I decided to bite the bullet and get the 5 things I've been eyeing for a while now. (Almost a year!!) And I am SO happy that I did.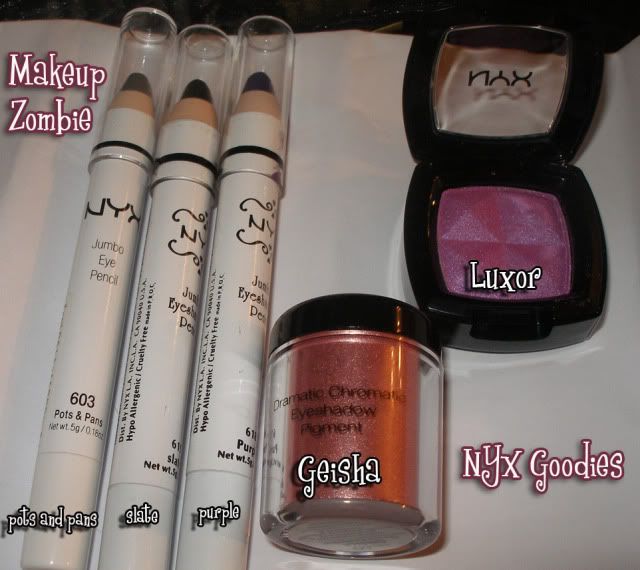 I use my NYX Jumbo eyeshadow pencil in Milk daily. No matter the look, I use a primer with Milk over that, I then apply my shadow. This causes the shadow to last all day and with as much vibrancy (almost) as when I applied it in the morning. Because of this, I ordered 3 more pencils in Purple ( a GORGEOUS blue/purple color), Slate (a deep charcoal color), and Pots and Pans (silver.) I adore them all so far. So creamy and smooth when applied and last a LONG time. (Do make sure you use a primer under these pencils to prevent creasing.)
I've also been eyeing the single eyeshadow Luxor for a long time now. A lot of reviews compare it to MAC's Star and Rockets (a bright pink color with a blue/purple base)- which I just love. And I am so impressed with this shadow. The texture is smooth and creamy and the color is just amazing. Why didn't I order this sooner!? I can't compare it to S&R because I don't actually own the shadow, but from swatching at the MAC counter, they are similar. Similar enough for me to only by Luxor from here on out.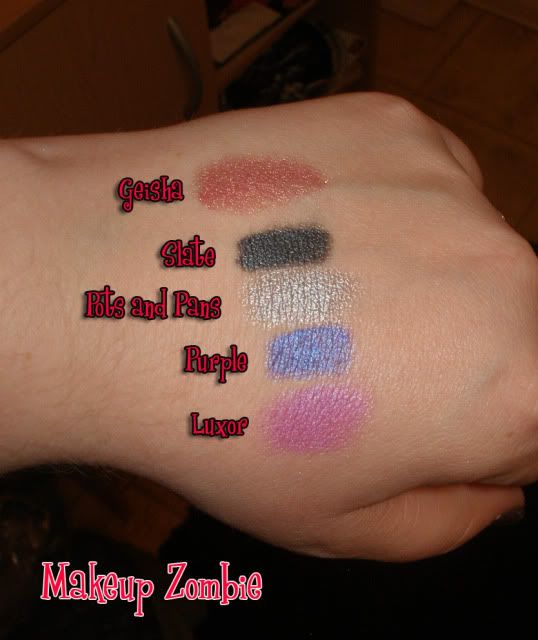 And last but not least. I purchased a new chrome eyeshadow called Geisha. NYX recently re-packaged the chrome eyeshadow and holy SHIT! is there a lot of product. And for $5.00 I was jumping for joy. The color is a nice rose color with gold reflects. I can't even believe how impressed I am with the color because I wasn't really expecting much. I am a mineral whore and so I really wanted to purchase it just to compare to some minerals in my collection. This blew some of those out of the water!! Pigmented and lovely. and of course. TONS of product. By far my favorite buy from NYX. A MUST HAVE PEOPLE!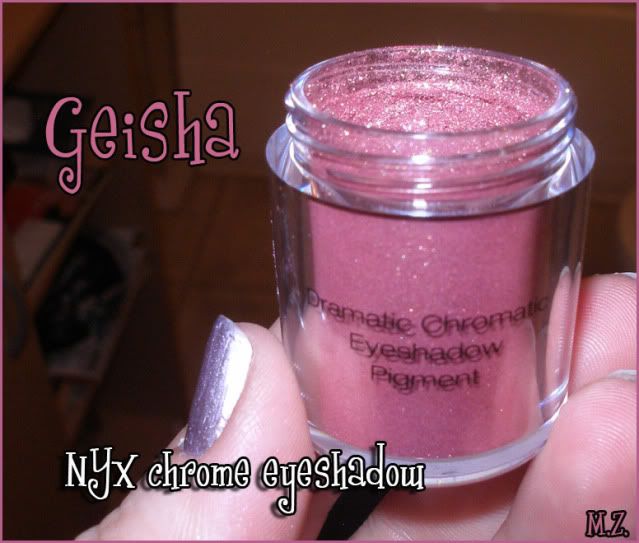 I give each of these products 5 out of 5 zombies and I will be loading up on some more of the chrome shadows.
Jumbo Eyeshadow Pencils retail for $3.50 on cherryculture.com. I got them on sale for $3.00.
Chrome Eyeshadows retailf or $5.00 on cherryculture.com
Single Eyeshadows retail for $5.00 on cherryculture.com. I got Luxor on sale for $3.50
And all of this was 25% off. I spent just under $20.00 for everything (INCLUDING SHIPPING)! Score!
So I suggest you wait until the next sale and try on these products for size!
Wendi