Last night my husband and 2 of our 3 kids went over to our best friends house to play a little Rock Band. (It wasn't really planned to play RB but 3 "Zombie" drinks in and that's how it ended up.) Anyway, I coherched my best friend Megan to become a victim..I mean "model" for a makeup look. Since she's a pretty neutral gal, I wanted to go bright with the shadow. And we're both in lust with Orglamix minerals, so I used ALL Orglamix products. Oh and, this was the very first time EVER that I've applied makeup to someone else. Not too shabby for my first try.
First I applied Urban Decay Primer Potion to the entire lid, once set, I applied a white cream base. I then covered the entire lid in Slate. (One of my FAVORITE shades.) In the jar it is a Slate color, but in the light shifts to gold and pink. (Eyeshadow images property of:
Orglamix Cosmetics
with the exception of the final look photos.)
Slate:
I then added Neroli to the middle of the lid and blended. In real life, this shade is a lot more vibrant. Reminds me of Stars and Rockets by MAC.
Neroli:
Because Megan doesn't really wear bold colors, I HAD to use Geranium in the inner corners.
Geranium:
And finally, I added Brimstone to the crease and blended it all together, adding a little more Slate over the entire lid and as a highlight on the brow bone. Again this picture does not do Brimstone justice. There are great blue and silver reflects in it.
Brimstone:
Added a little black liner to the top and lower lash lines and the white cream eyeliner to the water line. I then added Neroli to the bottom lash line. A little mascara and BAM! Megan did look fantastic after all was said and done! If I do say so myself...BUT, she was an excellent victim...I mean sport..I mean model.
Final look: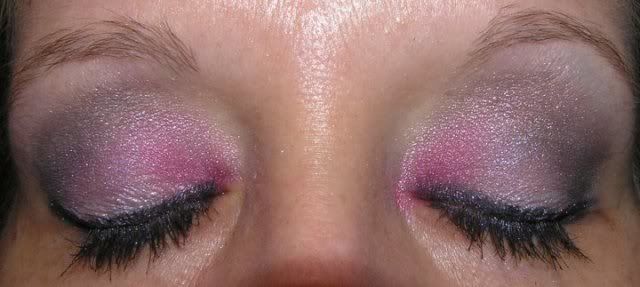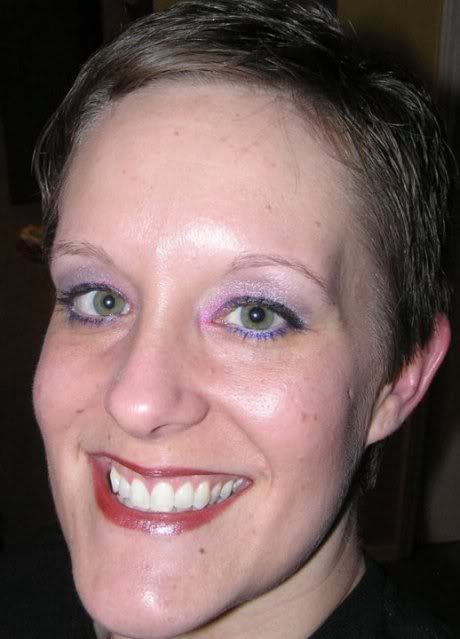 And yes...we both still love Orglamix. Probably more than ever now! Thanks bro for letting me use your face!