Ok, before I jump into this.. I have mixed feelings right now. I am new to mineral eyeshadow and Google has taught me a lot about what to and what not to expect when it comes to mineral shadows. Now, the thought of someone "repacking" their minerals doesn't make too much sense to me. I mean, I get the fact that it's really kinda cheating to buy a product and claim it as your own. But honestly, it doesn't really matter to me. I'm just looking for purty colors. I look for good customer service, an honest person, someone who communicates well, and won't beat around the bush when you have a serious question about their product. As I continue on my Mineral Eyeshadow journey, this all may change drastically, but for now...I'm happy with my collection.
That being said, let's begin..
The very first positive thing I have to say about Heavenly Naturals is that the customer service is stellar. I know I've said that before and I now have to bite my tongue over a certain company, BUT, this one is the real deal. Rene the owner was very quick with responses to Etsy messages, even though I purchased from the website. (I just found it easier to communicate via Etsy." She was helpful with color ideas, and answered many questions I had.
The Heavenly Naturals website is KICK ASS! Not only does she sell mineral eyeshadow, but she sales bath and body good, lip stuffs, perfume, glitter, glitter gel liners...I could go on, why don't you just check her out for yourself.

The shadows are pigmented ( if used with a good base) and I did really see some colors that were unique and nothing like I've ever seen before..Such as "Daddy's Girl" a duo chrome purple with a blue sheen, "Cupcake" a metallic rose color, and "Wish" (this is freaking AWESOME)

which looks off white in the jar and goes on iridescent purple.

You can purchase 5 gram sample jars for $1.75- which have 1/4 Tsp product. DUH! Who would pass that up. LOL You can also buy full size and samples in plastic zip lock baggies. Each jar was sealed and did have a removable sticker over the sifter.

Shipping is quick!

I wore "Daddy's Girl" today and it's still as vibrant as when I left the house this morning. SCORE!

I received 3 other samples in zip lock baggie form. Who doesn't love getting MORE shadow! Rene does give out 2 random samples in zip lock baggies with every order.
There are claims that Rene repackages some of her shadows. I really only found 2 (of the one's I purchased that are similar to "other" shadows I have. I by no means have a huge collection.

The "mattes" such as "Impulsive" and "Glamor Girl" were not as pigmented as I was hoping. Now over a good base they came out better than by themselves on bare skin, but I can foresee them being hard to work with.
I swatched "Panic" next to another shadow I have called "Sellout" from a seller that's also been known to "repackage" and they are the exact (and I mean exact) same color. I was actually a little taken aback. This could be a coincidence, cause a vibrant green color with a gold base is hot right now. But to me it seemed too close for comfort.
I do intend on contacting Rene, just to ask her about the claims. But from what I can tell, most of the colors seem unique to me, and I really adore them. They are easy to blend and they are vibrant. Overall, I'm excited to have found this company and I will order from her again..I mean, how can I not, she's in New Mexico too.
** I did receive a message back from Rene in regards to repackaging:
"I am so glad that you asked about the repackaging, I do sell colors that are repackaged, I have always been open and honest about it with anyone who asked. I carry all of the basic colors that you will find in a box of crayons, and the colors that cannot be duplicated, gold, silver, white, & black. If you look at any line of mineral makeup these basic colors will be found across the board, and they will also be found in the bigger name companies like MAC as well. I chose to include these uncut colors mainly because of their versitility. Any customer who buys these colors can mix any color they want using just a few colors. for instance if you want a lime green you can mix some logic and some panic and wa la you have a whole new shade. While we specialize in colors you won't find anywhere else, I think that no line is complete without the basics."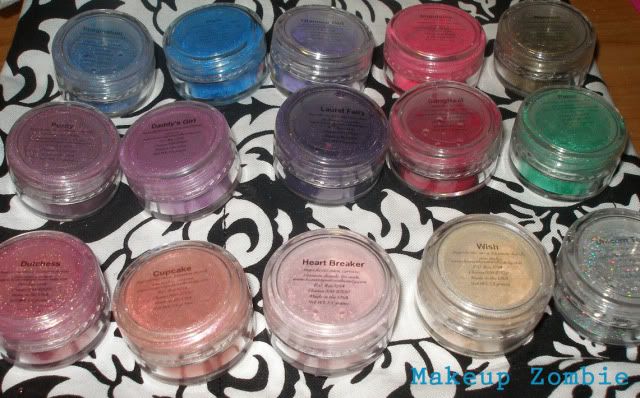 I swatched shadows over NYX Pots and Pans: silver cream jumbo eye pencil.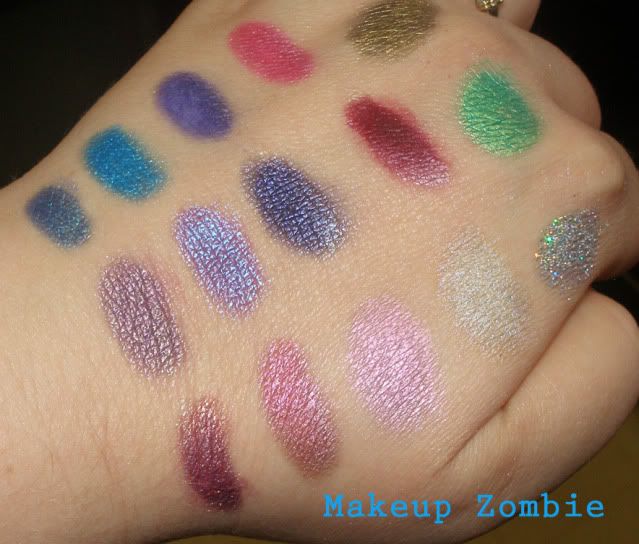 Top left to right: (descriptions are per the website)
Imagination

: deep purple color with green highlights,
Pixie

: very vibrant and rich blue,

Glamour Girl

: luxurious lavender color,

Impulsive

: Super Hot bright pink Pigment is a UV light responsive color,

Ransom

: wonderful antique gold
Purity

: Lavander splender with golden flecks,

Daddy's Girl

: sweet lilac eyeshadow with captivating violet highlights,

Laurel Fairy

: intensely beautiful deep dark purple,

SangReal

: blood red color, Panic: delicious green,
Dutchess

: intensely sparkly rosy pink,

Cupcake

: royal icing pink,

Heartbreaker

: a soft baby pink,

Wish

:
sweet girly peachy pink,

Unicorn Tears

: wonderful rainbow sparkle loose glitter.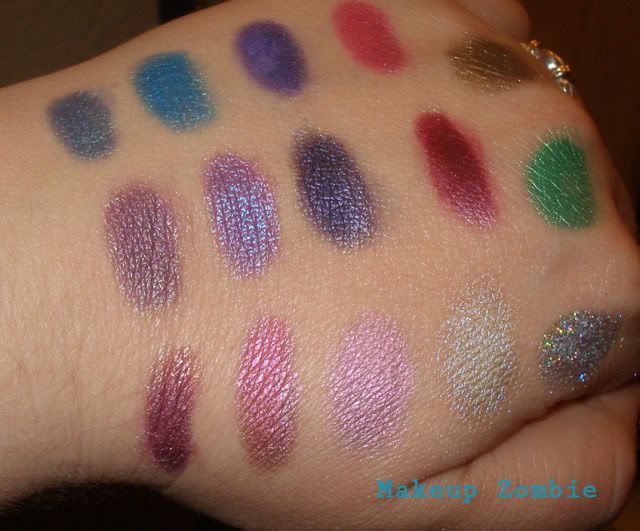 Me wearing "Daddy's Girl" over MAC's "Blue Flame" that came out with Style Black.
I rate Heavenly Naturals with a 4 out of 5 Zombies.. Cause I can!
Do you have anything you'd like to add to the review?